Opera and Ballet Blend Delightfully in OTSL's 'Orfeo & Eurid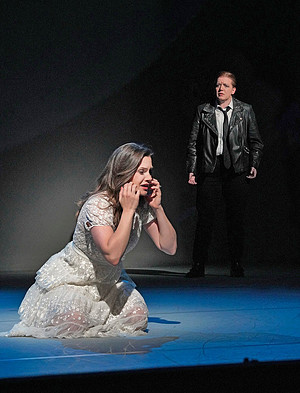 Story: Orfeo is in mourning for the death of his young wife, Euridice. His uncontrollable grief and his passionate, devoted love for his late wife move Amore, the god of love. Amore then informs Orfeo that he has been granted a most unusual second chance.
The gods, particularly Jupiter, will allow Orfeo to rescue Euridice from the Underworld, but only on the condition that he not look upon her until they have reached the world above. Nor will he be allowed to explain to her why he can't gaze upon her face.
Although puzzled by this command, Orfeo agrees to comply with Jupiter's dictate. He descends into Hades, touching the Furies who at first resist his efforts to enter the Underworld until they take pity on him. He then journeys to Elysium, a place of happiness and bliss, where Euridice's spirit now resides.
Euridice is ecstatic to see her husband and lover and is thrilled to join him again in the world. Soon, however, she notices that he won't look at her. She begins to believe that he doesn't love her anymore and says that, if that is the case, she prefers to remain dead. Tortured by her doubts and unhappiness, Orfeo turns around and looks at Euridice, who immediately dies again.
Determined to kill himself in despair, Orfeo is stopped by Amore, who reveals that his unwavering love for Euridice has saved both of them. Amore informs Orfeo that his suffering is now at an end as he happily joins Euridice in renewed life.
Highlights: Opera Theatre of Saint Louis scores another success with this refreshing and intoxicating interpretation of the Gluck operatic version of the enduring myth of Orpheus and his lost love, Eurydice. Sumptuous ballet performances by the Big Muddy Dance Company complement the excellent work of the OTSL cast to make this a memorable rendition.
Other Info: Opera Theatre commissioned a new English translation by Amanda Holden for the libretto written by Pierre Louis Moline after Ranieri de' Calzabigi's original piece, which accompanied music composed by Christoph Willibald Gluck for its premiere performance in Vienna in 1762.
The current version of OTSL's Orfeo & Euridice is being given in the 1866 edition created by Alfred Dorffel under the guidance of Hector Berlioz, as noted in the program. Essays by director Ron Daniels, conductor Pierre Vallet and OTSL public relations coordinator Kelsey Nickerson provide fascinating information about the history not only of Orfeo & Euridice but also Gluck's determination to introduce "reform" operas in the place of opera seria, emphasizing the "noble simplicity" of the music and drama.
OTSL follows long-standing tradition by utilizing the talents of a mezzo-soprano, in this case former Gerdine Young Artist Jennifer Johnson Cano, in the role of Orfeo. She doesn't disappoint, as she sends her powerful voice soaring in some very difficult arias in Gluck's ambitious score.
There's equally impressive work by soprano Andrea Chuchman as Euridice, who is unseen in the first half of the three-act opera which is divided into two pieces in this production, which has a running time of a little more than two hours. Chuchman's beautiful voice fills the bill for the lovely and loving Euridice, who is hurt by Orfeo's quizzical behavior and yearns to return to Elysium as a result.
The third primary role, that of the god Amore, is handled in satisfying style by soprano Maria Valdes, making an impressive OTSL debut in a whimsical portrayal of the 'messenger god' who wants to see the romantic pair happily reunited.
For this production OTSL has enlisted the invaluable services of St. Louis' Big Muddy Dance Company, which does justice to several major ballets which are performed throughout Orfeo & Euridice. In many ways, this work is as much a ballet as it is an opera. Director Ron Daniels and choreographer Katarzyna Skarpetowska mesh their considerable talents to keep the production moving fluidly and enchantingly forward.
Members of Big Muddy, under the guidance of artistic director Brian Enos and executive director Erin Warner Prange, include Geoffrey Alexander, CJ Burroughs, Karina Cardella, Dustin Crumbaugh, Brandon Fink, Mallory Hensel, Thomas Jacobson, Zoe Linder, Miranda Payne, Robert Poe and Ellen Reed.
Chorus master Cary John Franklin does impressive work as well leading the large and smartly tuned chorus who serve as Furies, mourners, Blessed Spirits and celebrants in various scenes, often roaming through the aisles of the Browning Mainstage.
Costume designer Emily Rebholz smartly dresses them in poncho raincoats in Hades (honest), billowing sheets as the Blessed Spirits and a colorful panoply of revelers for the finale, freely dispensing balloons to patrons throughout the audience. She also adorns Amore in tastefully tattered jeans and a movable set of wings.
Set designer Ricardo Hernandez smartly incorporates projections from video designer Peter Nigrini on the background wall and also the floor, making it appear as a sky for scenes featuring Orfeo on his quest for Euridice, or the foreboding Hades in another scene, keenly illuminated in a red hue by lighting designer Christopher Akerlind. Tom Watson adds a lively wig and makeup design for the revelers.
Daniels maintains an agreeable pace in the proceedings and evinces fine acting performances by his trio of primary players, while Vallet gets a spirited reading of the score from members of the Saint Louis Symphony Orchestra.
The tragic death of a patron at last Saturday's opening-night performance shortened that presentation to one act. Wednesday evening's effort showed how fine this rendition of Orfeo & Euridice truly is.
Mark Bretz

Ladue News